IRISH HORROR AND THRILLER WRITER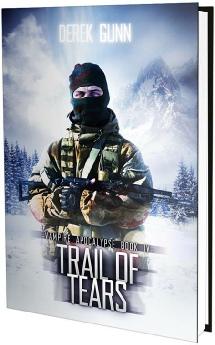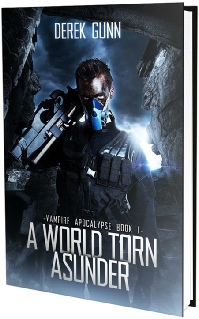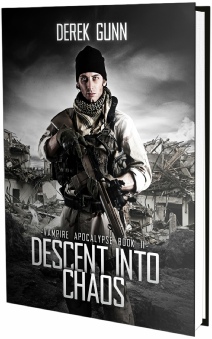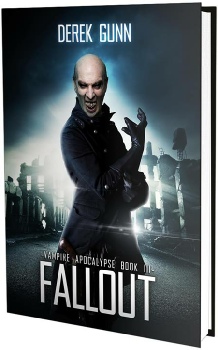 Praise for Derek Gunn's Vampire Apocalypse series
"This is the book that takes Vampires and turns them into a Summer Blockbuster.." ~Gorezone, UK's No. 1 horror magazine
"An incredibly original piece of fiction that keeps the reader turning the pages." ~Horror-Web
"I am shocked by how much I enjoyed this story." ~Horrorworld
"…it is solid storytelling..kick back and let the action flow over you." ~Whispers of Wickedness
"Anyone who is interested in vampire literature and likes his or her fiction filled with action will enjoy this." ~Fear Zone
"Gunn weaves a terrific tale." ~Apex Science Fiction and Horror Digest
"…offers an intriguing overall plot, with plenty of action and a concept that is far from ordinary." ~Dark Scribe Magazine
"An action packed book, which doesn't let up until the last page." ~The Book Club Forum
"Well, Derek Gunn has gone and done it again….he has taken the vampire mythos and given it what it so desperately needed. These bloodsuckers are true monsters and I can't wait for the third installment." ~Garry Charles
"Chaos dives head first into what can be labeled a "military vampire" adventure that'll have fans of the Underworld films as happy as a rabid cannibal at a Weight Watchers meeting." ~The Horror Fiction Review
"Gunn keeps the action moving and provides unexpected developments that keep the reader turning the pages." ~Monster Librarian
"Derek Gunn didn't reinvent the vampire novel. Instead he stripped it back to its roots, in the process tearing away the pretensions other writers have used to humanize the fabled bloodsucking monster. His books are not comforting paranormal romances; they are violent and visceral supernatural thrillers." ~International Writers' Association
"Derek Gunn is a master vampire writer who provides his fans with a graphic frightening world that hooks the audience as few military horror sagas do." ~Amazon.com
"I read it in two sessions which is unheard of for me. You just can't put it down – the action drags you in…It's a must read ! 5 Stars." ~Amazon.co.uk
"For those who like their vampires tough and truly terrifying, Descent, and Derek Gunn's entire Vampire Apocalypse series, make for exceedingly pleasurable and satisfying reading." ~Fear Zone
A WORLD TORN ASUNDER
The war is over and the Vampires have won.
In the midst of chaos, a small band of rebels lead a terrified existence, but their survival is threatened by the Vampire's new scanning procedures. Peter Harris is an ordinary man. Young and reckless, he is frustrated with the group's stagnation and pushes for one more daring mission. His recklessness has exposed the group--but it has also increased the size of their community. Now, as circumstances force them to take the offensive, Peter will make one last stand for humanity's survival in the Vampire Apocalypse.
DESCENT INTO CHAOS
The War is Over. The Vampires have won. But a new campaign is about to begin …
The first battle is over. Now the human survivors will pull themselves from the ruins of their base to find that the world is a very different place outside Nero's territory.
Nationally, the vampires have organised themselves into cabals but the scramble for power, raw materials and humans for their food, have led to an uneasy peace. Below the surface each state plots against the other and only the far-reaching power of the Vampire Council holds all-out war at bay.
FALLOUT
A New War begins
A brief but bitter conflict between rival vampires that the thralls have used to their advantage and they have grown in power and confidence against their former masters. Harris and his team hold a secret of immeasurable power – a coating for bullets that can kill the vampires. The thralls want it and the vampires must destroy it.
Across the country another power struggle threatens them all. There is a power play at work that Harris does not understand.
On top of all that there is a traitor in the human community and the small matter of a potential nuclear catastrophe…
TRAIL OF TEARS
Caught between the approaching thrall army, the violent storms and the poisoned air the humans make a desperate journey
The small human settlement celebrate their survival. The festivities are interrupted when an elite force of Carter's thralls find their hidden home and attack.
The fallout from the nuclear plant is also creeping south with the prevailing winds forcing the humans to abandon their home. Carter mounts a huge offensive to destroy the human threat and gain possession of the new, vampire-killing ammunition.
In California The small rebel band becomes more than a nuisance and Von Richelieu puts plans in place to destroy them once and for all.
The clock for the serum's deadly effects finally winds down and humans die in their thousands. With food scarce and the vampires falling prey to their growing madness the world falls closer to its apocalyptic end.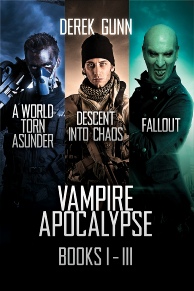 Also Available in Kindle editions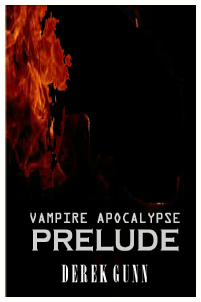 Vampire Apocalypse
Books I, II, III
Vampire Apocalypse
Prelude Novella
over 100,000 downloads!
- over 100,000 downloads!


Available in Paperback and Kindle editions